Zoom nostalgia
I loved my fake social life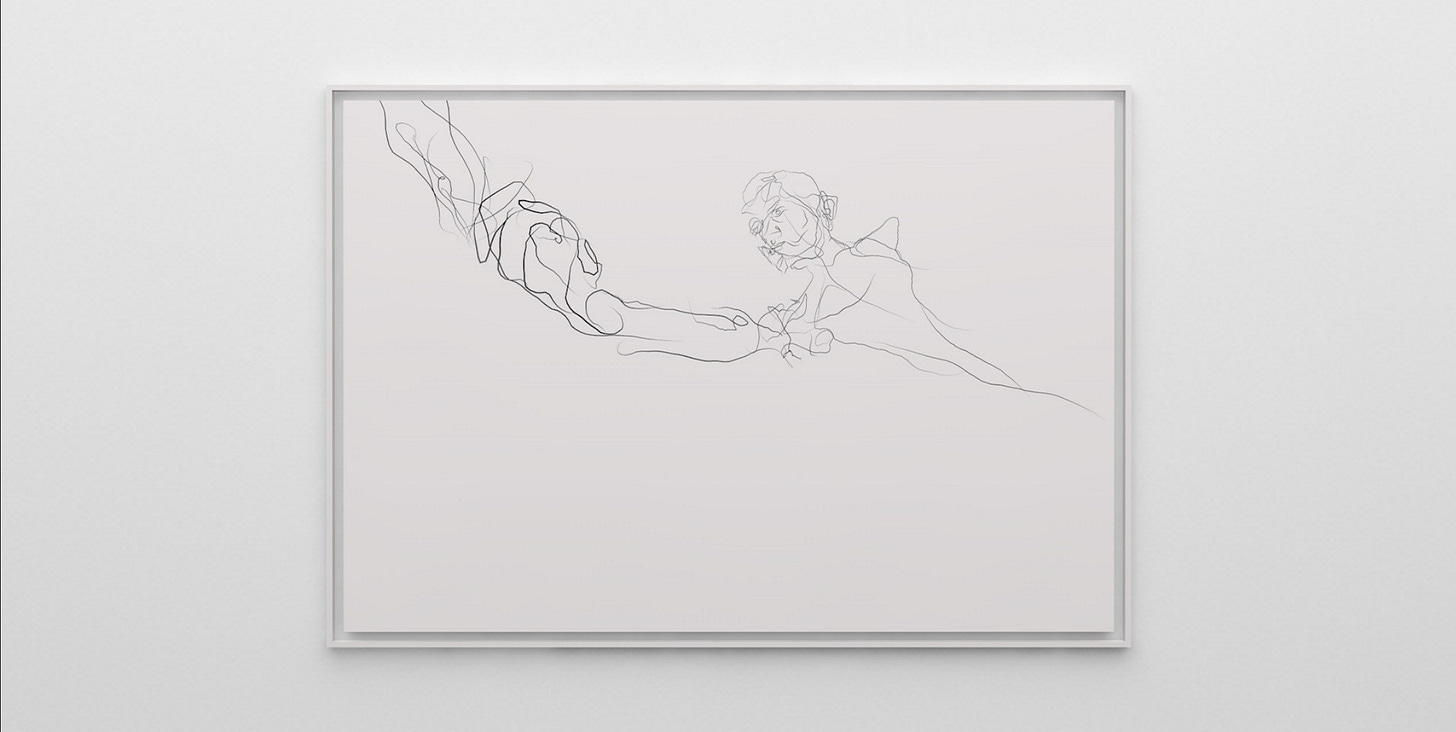 Sougwen Chung, Corpus IV from the series ( distance ) in place, 2020, graphite on paper | collaboration with D.O.U.G._5.
When I moved countries last summer, and probably more crucially, timezones, I hoped that I would be able to stay in touch with family and friends via video chat. I left Europe with a brave face, even if I was nervous behind the smiles, hoping that the promises to keep up contact would follow through.
Instead, it became, as it always does, just one more chore, whose burden seems to correlate with the number of arbitrary hours between me and the person on the other end of the front-facing camera. It was something that had to be set aside time for, and scheduled. At the same time, those first few months in a new place, I felt friendless. Even when out, trying to make new connections, I was never in contact with my people, my buddies, my community.
So, when the lockdown happened, I hoped that the world had become flatter, and cut down the "ugh" attached to an unprompted FaceTime. And it did: video calls stopped feeling so intrusive, and instead had the quality that they had always had for me, which is to say that they were necessary gulps of air. Groups, for a while, actually made time for a video call together, even if everyone complained about it on Twitter. There would be a plan and people would mostly stick to it. After all, there were no IRL friends to compete with. As Berlin and London have sidled back into social normal-ish-ity, I look back and see those Zoom months as the best my social life has been since moving to America.
I was also, less selfishly, hoping that replacing IRL encounters with digital ones would lead to changes in my work life. In particular, that the art press would be more up for writing about work being shown outside major cities. It's a whole chicken-and-egg rigmarole: that's where the art scenes and commercial galleries are, so that's where the writers, and, most importantly, the readers are. Somewhat understandably, it's hard to convince mainstream publications to feature shows that their readers can't get to.
If all the art (all the everything, in fact) was online, I thought, surely this would be a moment for editors and writers to hunt out a wider range of people making work in "off-the-grid" locations. With less need for geographical proximity, we would all would be newly open to the variety that could be lying before us. With almost every gallery opting for a similar arrangement of jpegs and text on a webpage, I expected art publications be suddenly full of recommendations outside of the usual circuit of NYC, London and Hong Kong. Certainly, at a minimum, outside of the usual roster of blue-chip galleries and institutions.
Needless to say, it hasn't really happened, and I feel somewhat naive expecting it to. As if the world online would ever be flat. As if the internet was ever a place to discover an equally-arranged series of options, sorted by juiciness, relevance and interest instead of accumulated wealth and power.
This was driven home to me this week, as I read Joanne McNeil's "Lurking", a richly reported social and personal history of web communities. The ways that technology companies have rearranged our data and interactions online over the last few decades are practically endless, but easy to forget. The conclusion, imagining how the internet could be like a library, instead of a pay-to-play marketplace, is still haunting me:
"Everyone is welcome in a library just for being. A person in a library is still a person: homeless or not, hurting or not. My dream for the internet, as a final form, is a civic and independent body, where all people are welcome and respected, guided by principles of justice, rights, and human dignity…With the internet routing through a planet that is the origin of more than a hundred billion lives, such a project means information in abundance."
Just like I'm still missing video calls, after the invites to Zoom quizzes have stopped, I'm nostalgic for the faked versions of reality that the lockdown produced. I went to Boston's ICA a few weeks ago and was so underwhelmed (just because the work is "real" doesn't mean it doesn't suck) that I wanted to huddle straight back to the internet art I'd been consuming.
Even if I can go out to (yes, masked) (yes, socially distanced) shows, I'm not done with the possibilities of online art exhibitions. Once home, I bundled myself straight into this show, produced by the Boston Center for the Arts and Abrons Art Center, about ways of finding intimacy at a distance. The show pairs up a writer and an artist whose work is presented in parallel. As Claire Voon wrote in her text accompanying Sougwen Chung's work: "As external realities we once knew have dissolved and fragmented over the span of months, a sudden reframing of intimacy has become inevitable… Our current systems of communication, in this era of profound unrest, beg for more than disruption, but a restart."
I wondered, as I scroll the show, whether these duos connected on video calls, if it was scheduled, and then, how far in advance. I wonder whether it made them feel closer, like a shaken hand does or a invigorating zap of direct eye contact. Mostly, I wonder if any of it would have happened if there had been other options - if real life had still been going on.
I'm into:
Read this interview with Sarah Schulman immediately!! I haven't read anything by her in full and I still feel like it opened a door up in my brain. Also into? My new short hair cut which has made me feel 100x lighter, freer and COOLER in all senses of the word.
I've written:
I wrote this piece for WIRED about the video game Occupy White Walls stealing the entire collection of the National Gallery a few weeks ago. I'm linking it in here again because it sums up quite nicely some of the things I want to talk about in this newsletter: what makes an artwork real, as in "original"? And then what makes it real, as in "effective"? It was also translated into Japanese. Which is cool!
Until next time,
Josie