Discover more from Realisticism
Notes on art, tech, and culture from freelance journalist Josie Thaddeus-Johns
Beyond Impossible Fakes
How meat substitutes limit our imagination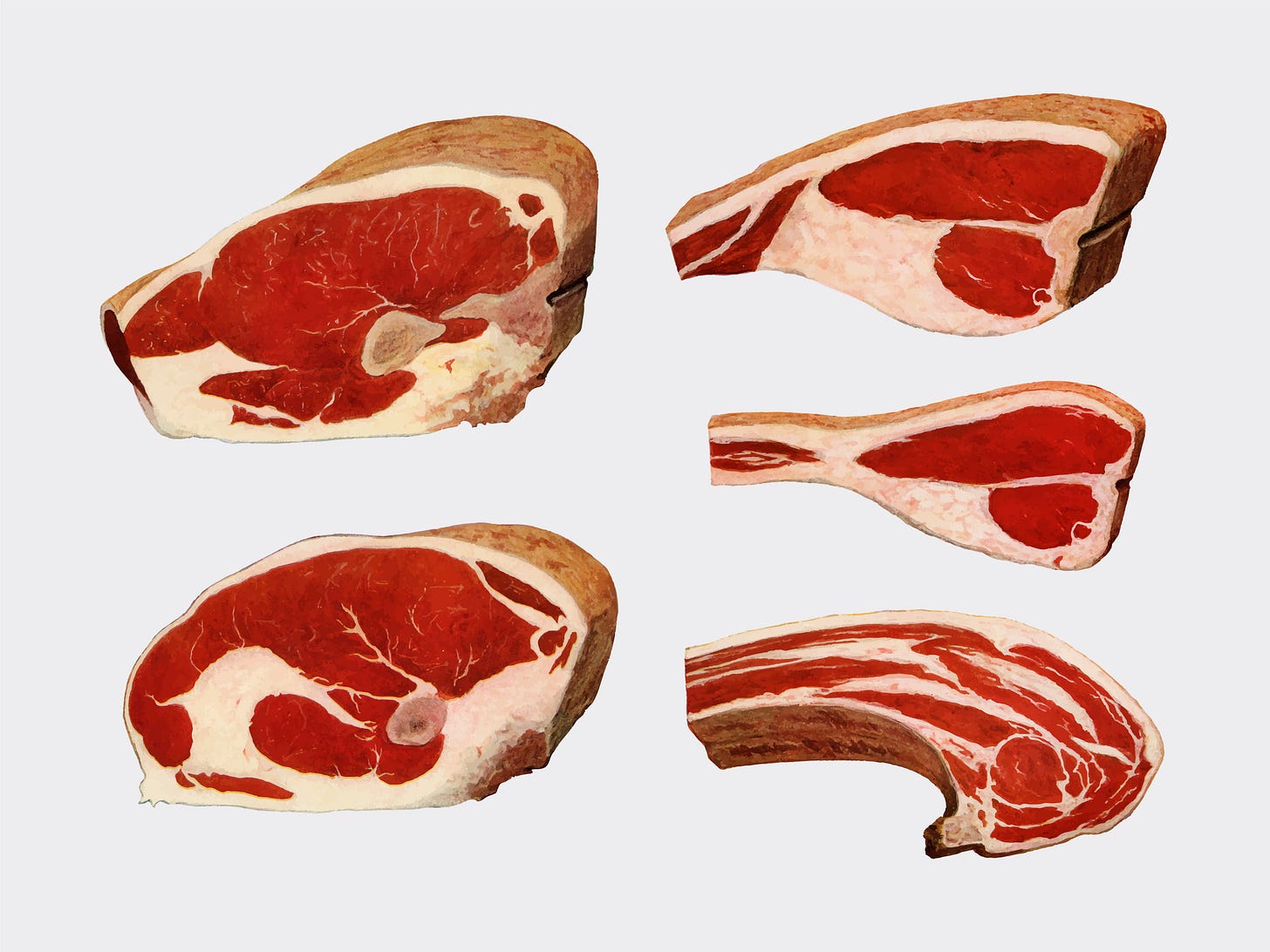 If you enjoy this newsletter, please press the heart button below - it helps more people find my work. Subscribe here if you haven't already and may I gently encourage you to forward this email, or repost it? It will make me smile, I guarantee it.
I love cooking. It's one of the most rewarding things I do each day. It has an end result, and so feels "productive" but also has an air of inevitability, so can't be too stressful. Something has to be eaten, so something has to be cooked. Following a rule book (and what else is a recipe?) is intrinsically soothing to me. I like it best when I feel confident enough not to follow them though: simmer the tomatoes for an extra few minutes because they don't look quite done enough, use mint instead of parsley because it tastes better. Make your own damn cake icing because this one looks disgusting, did the writer have a brain haemorrhage, or what?
The times when cooking exasperates me the most, however, are when there isn't enough time to think. This is, I recognise, how most people cook, especially people who take care of other people. I have vivid memories of visiting other people's houses as a child and being, constantly, a nuisance. I grew up in a vegetarian family in the 90s in the UK and that meant, in the mostly middle-class, mostly white, homes I was visiting, I sensed a mixture of disdain, aggravation and exasperation when I explained that I didn't eat meat. (I also had a tomato allergy when I was very small - this did not help)
As a vegetarian child in other people's homes, I was constantly a problem. I could sense the difficulties and discussions in the kitchen as I'd play in the other room, freezer doors slamming and cupboards being rummaged in, as a desperate attempt to meet my "impossible" needs. There were panicked voices, an urgent worry of how to conjure a replacement for the meat.
The task mostly fell to mothers, whether they had jobs or not. I remember one mother in particular (I could tell, even as a child, that she really hated cooking) sitting me down in front of a yellow block of cheddar cheese, the size of the ones that comes wrapped in plastic in an airline meal. Something was needed to fill the gap, to replace the spot on the plate where her daughter's chicken nuggets or sausages sat. There needed to be protein. What was protein? Cheese.
I went to this friend's house often, and remember quite looking forward to these clammy blocks of cheese, requesting them even when there were other options available. Thankfully, six-year-old me was not representative of the consumer mindset in general, or of my tastebuds today. As I have remained mostly-vegetarian over the years, I have been offered dry slabs of yellow, goose-fleshed Quorn; tofu unseasoned and unspiced; and a plethora of brownness in the shape of sausage, meatball and mince. Most recently, in the somewhat more rarefied setting of a Soho House press event, I have been offered the "plant-based" meat.
The plant-based meat (by which I mean the aspirational: the Beyonds and the Impossibles) tastes good. I would take it any day instead of the solid protein punch of a Quorn chicken breast. Its role, however, is exactly the same. In the thirty years I've been eating like this, attitudes to what a meal consists of, in the settings I've experienced, have not shifted at all. There is a template which includes meat, and anything that resembles a meal should have this component. In this construction, meat is the original, and a vegetarian meal requires a replacement. Fake meat's role is to realisticise: beetroot juice for the colour, yeast products for the blood, pea protein for the texture, the smokey, fleshy flavour from god-knows-where. For anyone who hates cooking as much as my aggrieved childhood friend's mother, there is no change in mindset needed. There is a one-to-one translation available. An easy fix. And that's the point - the idea of the new, aspirational meat is to lure meat eaters into the vegetarian aisle (good), by persuading them that everything can stay exactly the same (bad).
If you do not have time to think, to change the Eurocentric, Western, meat-eating paradigm, and most people do not, it makes sense. Reader, I grew up eating very few meat substitutes, and yet I still sometimes take the easy route. When I'm tired, or not in the mood, vegetarian sausages are my saviour. When I've had a terrible day, I would be mercifully happy to see a veggie burger, the tastier the better, in the fridge.
And yet money, energy and innovation does not need to be focused with such laserlike precision on mimicking what we already know. Vegetarian meat substitutes do not need to have the qualities of animal flesh, any more than video games, animation and video calls need to perfectly mimic the physics of time and space. Instead, these experiences need to work on their own terms. Eating without meat is just the same. The current direction of the fake meat industry offers a way out of shifting conversations and promises a tech-enabled status quo. The obsession is with mimicking patterns that already exist, rather than helping us imagine new ways of seeing the world. What the Beyonds and Impossibles purport to offer is replicas of a world that doesn't have to be that way. Pointless, overdeveloped dead-ends for the planet and people.
I've written
"We'd be better served by breaking certain patterns" wrote trend forecaster Ayesha A. Siddiqi, in the interview I did with her in this week's No News News (keep scrolling to read), which feels very pertinent to the content of this newsletter. She also talked about Big Data, trend cycles and how it feels to tell the future.
I'm into
I keep recommending The Writer's Hour to everyone I know: uninterrupted writing time, first thing in the morning, in several timezones. Speaking of timezones, I am very bad at calculating them. Therefore this website does EXACTLY what I need it to, which is more than you can say for most. Also I've been watching Next in Fashion, in a shocking slide back into reality TV bingeing. I love Minju and Angel!!
If you enjoy this newsletter, please press the heart button below - it helps more people find my work. Subscribe here if you haven't already and may I gently encourage you to forward this email or repost it? It will make me smile, I guarantee it.
Follow me on Twitter: @josiet_j
Read more of my work: www.josietj.com